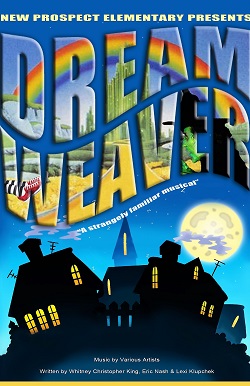 Auditions for the school play, "
Dreamweaver
", will be held on
Tuesday, Nov 14th
(3:30-6:30) and Wednesday, Nov. 15th (2:30-5:30).
Please sign your child up for a 4 minute audition time slot on one of
these two days.
The sign up schedule will be available on the PTA website under the "School Play" tab starting
November 1st
and will close at 3:00 pm on Nov. 8th.
Please review the documents under the School Play tab on the PTA website for more detailed information, including how to prepare for audition.
Your child must bring the Audition Information Sheet, performer's fee, and the Performer's Contract to the audition.
You
MUST
staple a picture of your child to the Audition Information Sheet.
Students must be in grades 3 - 5.
Performances will be Friday, Jan. 26th at 7:30 and Saturday, Jan. 27th at 3:00 and 7:00. The first rehearsal/read through will be on Nov. 16th, and rehearsals will resume after the break on Nov. 27th.
If you have questions, please email Michelle Kahoiwai at kahoiwai1@yahoo.com.
Dream Weaver Sound Bite
What would you do if you could no longer dream?! Well, come along as Dottie and the people of Slumberville go on a perilous quest to find their stolen dreams. They encounter many wacky and zany characters on their journey that seem strangely familiar. Their adventure leads them to seek out the mysterious, great, and powerful "Dream Weaver." This high energy musical parody has everything from a sarcastic witch, to flying monkeys, and is filled with song, dance, and hilarious comedy! Will they succeed? Will they reach their goals and aspirations and make their dreams come true, or will they be stuck living their worst nightmare.